Spreaders
MANURE SPREADER N-233/4
Check the machine rental offer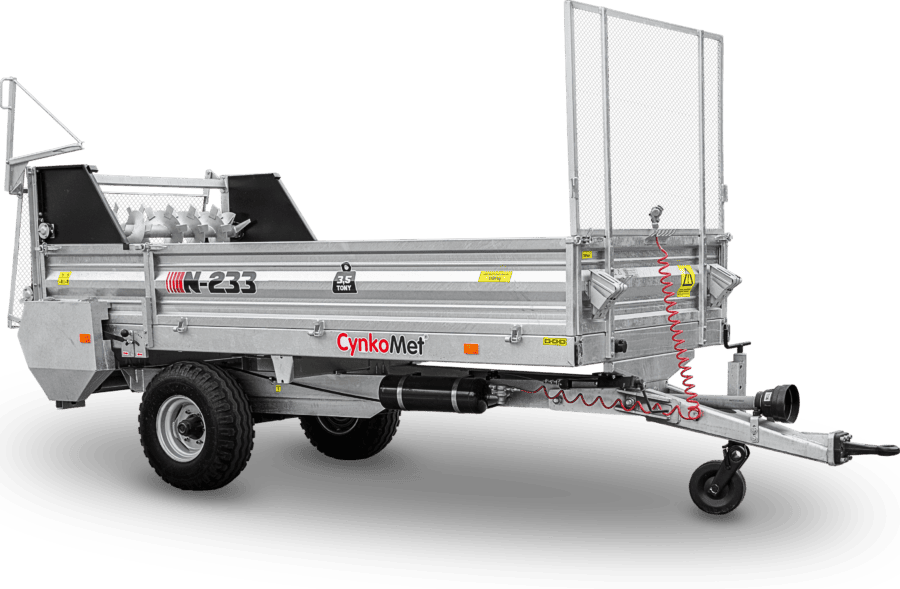 The use of a rigid connection between the axle and the frame significantly increases the durability of the structure while ensuring optimal driving characteristics.
The option of choosing an adapter with vertical or horizontal rollers gives you the opportunity to adjust the spreading parameters to the needs of a specific farm.
Wall height ~ 500 mm with thickness 2mm, hot-dip galvanised.
Hot-dip galvanised two-position drawbar for connecting to the tractor's lower or upper hitch with
Straight drawbar support with collapsible steel wheel, partially hot-dip galvanised
Hot-dip galvanised bottom frame made of metallurgical 160 channel sections
New 11.5/80-15.3 wheels
Axles from renowned ADR company, full beam with 70 mm square cross-section, 300x60 brake
Two wheel chocks placed in galvanised pockets
Technical data
Technical loading capacity ~ 3,500 kg
Gross vehicle weight rating according to PL regulations 5,220 kg
Unladen mass ~ 1,720 kg
Length 5,805 mm
Width 2,120 mm
Height 2,720 mm
Width of cargo box interior 1,735 mm
Box wall height 500 mm
Floor/wall sheet thickness 4/2 mm
Height of platform from base 1,075 mm
* – unladen mass and loading capacity may vary depending on equipment
Loading surface 6.5 m2
cargo capacity 3.2 m3
Track of wheels 1,500 mm
Drawbar coupling height – bottom position 420 mm
Drawbar coupling height – top position 860 mm
Tire size 11.5/80-15.3
Suspension rigid axle
Design speed 30 km/h
Minimum demand for tractor power 45 HP
Spreading width ~2-3 m**
** – spreading width may differ from the specified width depending on the material used
Features and accessories
Wall height 500 mm with thickness 2 mm, hot-galvanized (not opening)
A2HS adapter – 2 horizontal finger drums – hot-galvanized
Hot-galvanized two-position homologated drawbar for coupling to the top or bottom tractor hitch,
with exchangeable 50 mm or 40 mm eye (2015/208)
Parking handbrake with crank
Straight drawbar support with collapsible steel wheel
Hot-galvanized frame made of metallurgical 160 channel sections
Hot-galvanized adapter
Hot-galvanized conveyor chain, thickness 11 mm
Exchangeable floor made of hot-galvanized flat sheet, thickness 4 mm
Exchangeable, hot-galvanized conveyor strips made of 50x25x3 profile
Mechanical advance of conveyor with 9-level regulation
Star wheels made of spheroidal graphite iron
12V lighting, bulbs
Lighting installation connector cable with 7PIN 12V plug
Single-line pneumatic brake system
New 11.5/80-15.3 12PR wheels
Axles from renowned company – ADR
Two wheel chocks placed in galvanized pockets
Additional equipment
Wall extensions (rear wall included in set) 500mm
Rear wall (sideboard) 500 mm
Hydraulic rear wall (in front of adapter)
New 400/60- 15.5 wheels
Hydraulic brake installation
Two-line pneumatic brake system
Full LED lighting
Articulated shaft for coupling to tractor
Wide-angle PTO – articulated shaft for coupling to tractor
Warning triangle
Drawbar eye 40 mm